Hotel Maggiore Bologna, The Perfect Hotel For Cyclists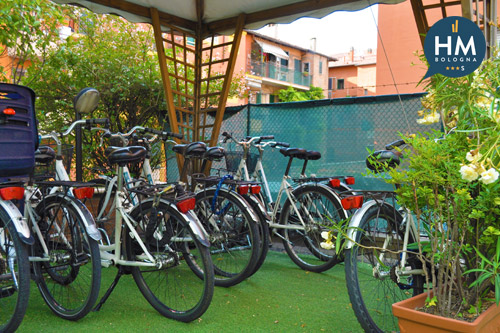 Hotel Maggiore Bologna lies within the Eurovelo 7 route, one of the longest routes proposed by the ECF (European Cyclists' Federation). More than 7,400 km starting from North Cape and reaching Malta in the Mediterranean Sea, cycling through Finland, Sweden, Denmark, Germany, Czech Republic, Austria and Italy.
Our hotel is perfect for cycling tourism and urban cycling in Bologna, in fact it is located in a strategic position: at the door of the city centre, ideal for a cycling tour exploring Bologna and at the same time as a starting point for a tour among the province routes.
It is difficult to move by car in the city centre of Bologna because of many restrictions to traffic. For this reason, a lot of people prefer to park their car at the hotel and discover the city by bike. Therefore in Bologna, the bicycle has become also a practical mean to reach places otherwise difficult to visit.
For people arriving by car, the Hotel Maggiore Bologna provides a free parking service combined with a free bicycle rental service. We think that this is a useful service to guarantee a relaxing and simple stay.
Urban cycling in Bologna has recently been growing thanks to many caring and active people who prefer a cheap and ecological mean of transport: it is easy to move by bicycle in Bologna. For this reason we support FIAB (Federazione Italiana Amici Bicicletta) and the project Albergabici being awarded as "Hotel Amico della Bicicletta": we provide a 8% discount to FIAB members as well as many other bike-friendly services. For those who want to move by bicycle in Bolonga, Hotel Maggiore provides:
Free city bicycle rental with anti theft chain
Wayel e-bikes (deposit + daily rental rate)
Upon request we provide child bicycle seats, helmets and kids bikes
Information on routes, itineraries and news from the world of bikes.
Hotel Maggiore provides to cycling tourists passing by Bologna and to athletes who have races nearby:
Covered and monitored garage, where to put personal bicycles
Basic bicycle repair equipment for minor repairs
Directions to the nearest bike shop for major repairs
Rich breakfast upon request
Lunch boxes upon request
Possibility to take your bike into the room
We are completely committed in satisfying any specific request
At the Hotel Maggiore Bologna city bicycle rental is free, you will receive a bicycle with an anti-theft chain and only a small deposit will be asked (returned at the end of the rental service). Instead, if you reach the hotel with your own bicycle, we provide a covered garage and a small area equipped with basic bicycle kits for last minutes settings.