Bikers - Hotel Maggiore Bologna the hotel for bikers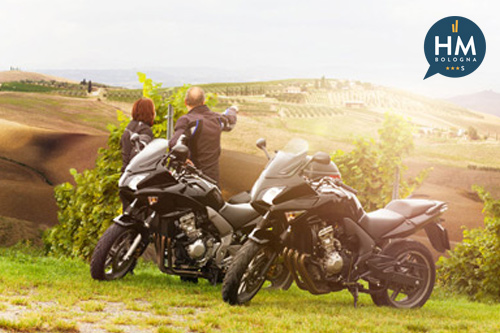 Bologna with its long motorcycle tradition is one of the most interesting points of reference for riders in Italy.
The long history of motorcycling in Bologna has witnessed the birth and growth of the Ducati kingdom over the course of 90 years, now worthily represented by the splendid museum that is just a few kilometers from our hotel.
Bologna is definitely the capital of the Motor Valley, where important world-famous companies find space, just to name a few: Ferrari, Lamborghini, Ducati, Maserati as well as a huge number of smaller companies operating in the sector and the legendary circuits of Imola , Misano, Fiorano-Maranello, in addition to the nearby international circuit of Mugello.
Bologna is also home to the traditional Motorshow fair.
After riding the curves of the Apennines, those approaching Bologna will find in Hotel Maggiore a hotel for motorcyclists that offers a dedicated bike wash station, facilitations in the use of the laundry and comfort and comfort "as at home" reserved for our guests. customers.
Hotel Maggiore for motorcyclists offers the following Rider Friendly services:
Washing station for the motorbike
Garage on request
Free parking
Special conditions for laundry service
Some useful information about the area
Street map and information on important and possible destinations. Tours in the area
Comfort compared to the Ducati Factory and the Museum
Contact for motorcycle repair and assistance
Maximum availability to try to satisfy particular requests
Enjoy a Rider Friendly stay, we are waiting for you with your motorbike at our hotel for motorcyclists!