Bikers - Hotel Maggiore Bologna, the hotel for bikers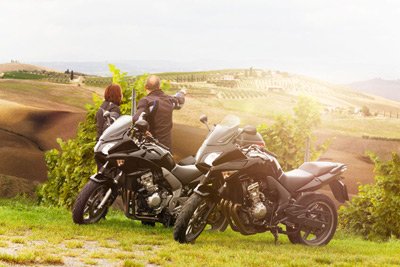 The long motorcycling history of Bologna has seen the birth and growth of the Ducati reign over the space of ninety years, now worthily represented by the amazing museum at a few kilometres from our hotel.
Bologna is certainly the capital of the Motor Valley, where you will find very important world famous companies, such as, just to name but some: Ferrari, Lamborghini, Ducati, Maserati as well as a great number of smaller entities that work in the sector and the legendary circuits of Imola, Misano, Fiorano-Maranello and the near International Mugello Circuit.
Furthermore, in Bologna takes place the traditional Motorshow exhibition.
After riding the curves of the Apennines, the bikers approaching Bologna find in Hotel Maggiore a hotel for bikers which provides a motorcycle washing station, special conditions for laundry and all the comfort and welcoming of our "Feel at Home" service reserved to our guests.
Hotel Maggiore for bikers provides the following Rider Friendly services:
Motorcycle washing station
Garage upon request
Free parking
Special conditions for the laundry service
Useful information about the area
Roadmaps and information on important destination and possible tours in the area
Ducati Factory and Museum easily accessible

Telephone number of a mechanic

We are completely committed in satisfying any specific request
Enjoy a Rider Friendly stay, we are waiting for you and your motorcycle in our hotel for biker!