Thermal Baths in Bologna - Hotel Maggiore Bologna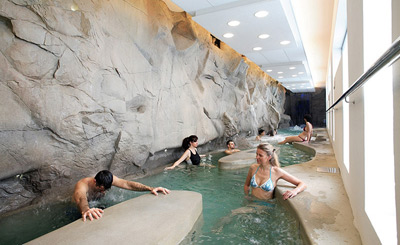 Not far from the Hotel Maggiore there are some of the thermal baths of the Mare Termale Bolognese network.
Mare Termale Bolognese provides several services aimed at health preservation and general wellness through diagnosis, thermal baths, physical medicine and rehabilitation, but also fitness and wellness products, such as beauty treatments, gift boxes and vouchers.
The closest thermal centres are: Terme San Luca, Terme Felsinee and Terme San Petronio.
You can benefit from our free parking service and reach the thermal centres by foot or by bus, buying tickets at our reception desk.
Terme di Mare Termale Bolognese are open also by night and they are a great idea to combine relax and art city during the same weekend: in Bologna you will find both thermal baths and monuments and art in the historic centre.
Hotel Maggiore is both near the Terme and the historic centre.
For further information on Terme in Bologna: Mare Termale Bolognese
Moreover to guests of Mare Termale Bolognese, at Hotel Maggiore we offer special rates. Terme Special rates.
Reserve a room with the TERME option, we provide at the same standard rate of that day the following additional free services:
20% discount for Mare Termale Bolognese admission and services. (not expandable for pre-purchased packages)
Superior equipment in the room (bathrobes, slippers, toiletries)
Tea/Coffee facilities in room
Mini-bar included
Late check-out at 2 pm upon request
We are at your service, please contact us by email This email address is being protected from spambots. You need JavaScript enabled to view it. oor call at (+39 051.381634). Or book online on our website
Please specify in the notes to your reservation that it is a stay with TERME option.