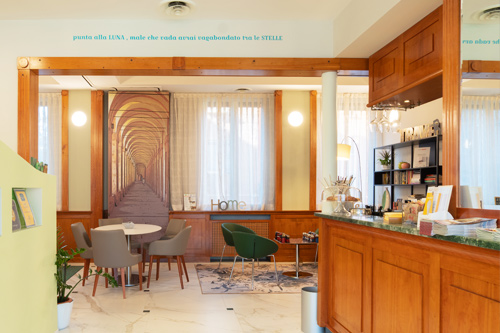 Every morning starting from 6.30 am a rich buffet breakfast will be available, wishing you a good morning since very early hours.
The breakfast room of our hotel in Bologna opens daily from 6.30 am to 10:30 am.
In our breakfast room you can enjoy our rich sweet and savoury, hot and cold buffet breakfast, according to your tastes.
Every morning you'll find a large range of sweet and savoury food, cheeses, cold cuts, cereals, jams, Nutella, eggs, pizza, seasonal fruit, yoghurt and cakes of the day and the latest weekly dishes. And there will also be tea, coffee, fruit juices, cappuccino and fresh milk. Our staff will be happy to wait on you and help you.
In order to help you choose, our products will be divided in three different areas: Yummy breakfast (with cakes and nourishing products), Healthy Breakfast (with light and more organic products), Alternative Breakfast (with gluten-free, vegan and ethnical products).
Please feel free to tell us about your particular diet requirements at your arrival, so that we can provide a wide range of products suitable to your needs in an even more large and varied amount. Furthermore you can have additional services on request:
Early breakfast. For guests, who have to leave very early in the morning.
Room service. For guests, who want to enjoy breakfast in their room
Strong breakfast. For athletes who need to refill their energy levels.
Packed Breakfast. An easy take-away breakfast.